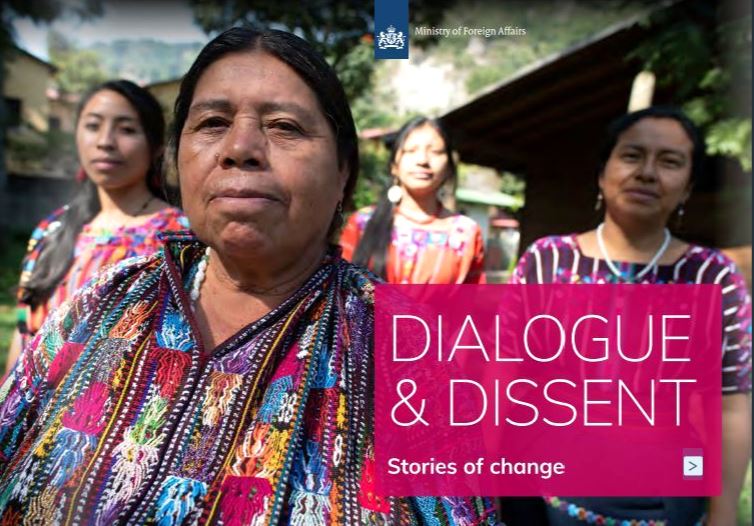 Photo: Netherlands MFA
Looking back: Our Strategic Partnership on Dialogue and Dissent
13-01-2021
From 2016 until December 2020, NIMD was part of the Netherlands Ministry of Foreign Affairs' Strategic Partnership on Dialogue and Dissent.
We were one of 25 strategic partnerships with the Ministry, whose work spanned 60 countries with the clear purpose of empowering civil society in low- and middle-income countries in their role as advocates and lobbyists.
Collaboratively, these organization used their different expertise and ways of working to strengthen civil society's capacities to represent the rights and needs of citizens worldwide. Together, we built regional and international networks of change makers, and made steps towards inclusive and sustainable development.
To celebrate this collaboration, the Netherlands Ministry of Foreign Affairs has published an e-magazine, a series of stories which share results, challenges and lessons learned from NIMD and the other Strategic Partner organizations.
NIMD AND THE DIALOGUE AND DISSENT PROGRAMME
At NIMD, we are very proud of our contribution to the programme's main aims. We believe that, in any society in which there is a real chance for dialogue and dissent, there must be space for all groups to actively make their voices heard through politics and in civil society organizations. Through the dialogue and dissent programme, and in all our work, we strive for a world of inclusive democracies that offer equal opportunities for everyone to be heard, to participate and to take responsibility in politics at all levels.
We contribute to inclusive democracy in different ways. First, we know that civil society can only operate effectively if politicians are open to their input and able to translate their arguments and wishes into actual policy decisions. That is why enhance and facilitate dialogue between civic and political actors.
We also support political parties, individual politicians, and political institutions such as parliaments to bring their democratic values into practice and enhance the overall political culture in their country.
NIMD works to address the unwritten rules and practices that exclude underrepresented groups, including women, from participating in the political arena.
DIALOGUE AND TRUSTBUILDING
Democracy starts with dialogue. Dialogue allows diverse groups in society to start to understand and respect each other, find common ground and reach compromises where necessary.
NIMD creates dialogue platforms, where politicians from across the political divide can work together towards a democratic future. These dialogue platforms provide a safe space for different political parties to debate, agree, and jointly put forward proposals for democratic reforms. Throughout the Dialogue and Dissent programme, NIMD successfully facilitated this process in several countries. Learn more on how this works, in this example from the dialogue process in Uganda.
We also organize dialogue between politicians and civil society. Through dialogue, political actors and civil society can start to establish a basic level of trust and lay the foundations for long-term collaboration.
Our dialogue in action: How our dialogue in Zimbabwe helped build trust in the most difficult of circumstances.
DEMOCRACY SCHOOLS
Every democracy needs democrats. If we want political actors to work with civil society, and in the interests of their citizens; if we want them to be accountable, break down barriers to women and minorities and strive for inclusiveness… then they need to believe in the values of democracy. Our Democracy Schools help both established and future politicians learn these values and put them into practice as leaders. By providing a space for politicians to speak, listen, and debate with mutual respect, we can make sure democracy is here to stay. Learn more about our Schools around the world.
Our Democracy Schools in action: How a woman vice mayor used what she learned in our Democracy School to improve opportunities for young people and women
RESPONSIVE POLITICAL ACTORS
If we really want an inclusive democracy, where every person has a voice, politicians, political parties and other democratic institutions need to reinvent their relationship with the population. Inclusive democracies require responsive and accountable politicians, ready to engage in a continuous dialogue with the population.
At NIMD, we supporting political actors to develop the skills and values they need to interact with the people in their country. We support politicians in their outreach activities towards the population as a whole.
In addition, we work with political parties, parliaments and electoral bodies, helping them to innovate, structure themselves and stay connected to their populations.
Our work with political actors in action: How a young indigenous women in Guatemala used her experiences to shape legislation and stand up for the rights of her community