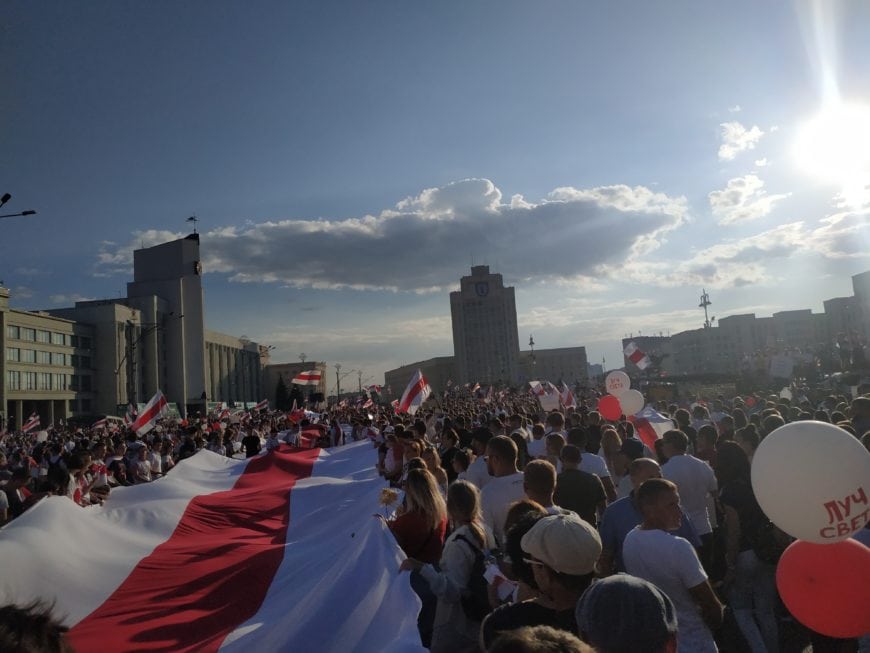 Photo: Protest actions in Minsk, Максим Шикунец, CC BY-SA 4.0, https://commons.wikimedia.org/w/index.php?curid=93201622
News
Statement: EU must support human rights and democracy in Belarus
20-08-2020
NIMD has joined forces with democracy support organizations from across Europe to call for support to human rights, justice and accountability in Belarus.
In response to grave human rights abuses and rigged elections in the country, we have signed a joint statement asking EU Member States and institutions to strengthen their commitment to human rights and democracy in Belarus. The statement came ahead of the European Council Summit on Belarus on 19 August.
Fellow members of the European Partnership for Democracy (EPD), a network of not-for-profit organizations working on supporting democracy worldwide, have also signed the statement. Together, we ask EU Members States and institutions to:
Support democratic processes in the country, in particular to the Belarusian-led transition coordination council.
Condemn the widespread abuses and human rights violations in Belarus and support processes for ensuring accountability for these violations.
Call for access to prisoners for their families and lawyers, as well as the release and rehabilitation of all those detained for exercising their right to freedom of expression, freedom of assembly and other human rights.
Call for free and fair elections in Belarus in accordance with international standards and with the presence of international observers.
Apply targeted sanctions, travel bans and asset freezes to those responsible for fraud in the 9 August election and the repression that followed.
Offer protection for those facing persecution through the provision of free Schengen visas and/ or temporary humanitarian visas.
Provide flexible and speedy funding to Belarusian civil society, including through the Directorate-General for Neighbourhood and Enlargement Negotiations (DG NEAR).
This statement has been signed by:
Read the full statement here.