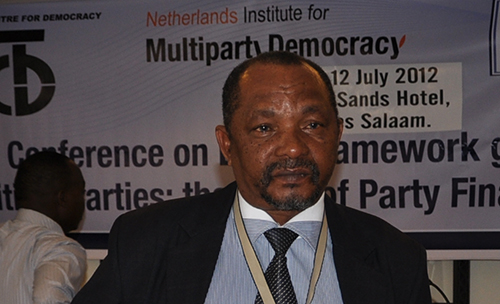 News
NIMD mourns the death of Daniel Loya
12-02-2021
NIMD is deeply saddened by the death of Mr. Daniel Loya, Executive Director of the Tanzania Centre for Democracy (TCD). 
TCD is one of NIMD's oldest partners. Our programme there spanned from 2006 to 2012. Since then, we have been pleased to be able to continue working with the organization, and Loya as its Director, through the Global Partnership for Multiparty Democracy.
Over the years, many of us at NIMD have built bonds of friendship and trust with Loya. He will be greatly missed within our organization. 
Below, we share with you some words from Shaun Mackay, NIMD's External Advisor on Dialogue. Shaun worked closely with Loya, right from the beginning of NIMD's work in Africa . 
"The name Daniel Loya, or simply 'Loya' as he was affectionately known by his NIMD and TCD colleagues and friends, is synonymous with TCD. He was there from its genesis in Tanzania. He succeeded the first Country Coordinator, Prof. A Liviga, and faithfully served TCD until he sadly passed away this week.
Loya was a colleague over these many years and we consequently became friends; I grew to appreciate his unique sense of humour (which he did not readily share until he came to trust you) and his dedication to the cause of interparty dialogue as a vehicle to strengthen and undergird what was then his country's fledgling democracy. He was a humble and unassuming warrior of democracy in his country – preferring to leave the limelight to the member political parties.
Things were not always smooth sailing for him and TCD; but he persevered through the many challenges and managed to keep the organization alive through it all. One highlight of Loya's service to TCD, and the parties which it served, was when the Tanzanian Government (as a result of lobbying by TCD) began providing funding for the organization's operations and activities – something that many other NIMD partners were, at the time, struggling to achieve. I remember how we admired TCD for this impressive achievement.
And I was always impressed by how widely connected and respected Loya was by politicians from across the country's political spectrum.
It is fair to observe that TCD, under Loya's leadership, played a significant role in the political life of Tanzania through much of the organization's existence. Daniel Loya, whichever way you look at it, has left an indelible mark on the people and organizations he worked for and with, including his colleagues and friends at NIMD. But most of all, TCD and indeed its member parties, have lost a long-serving friend and champion.
Go well Loya!"
NIMD wishes to pass on our deepest condolences to Daniel Loya's family, friends and colleagues at this sad time. Many of us have lost a dear friend.