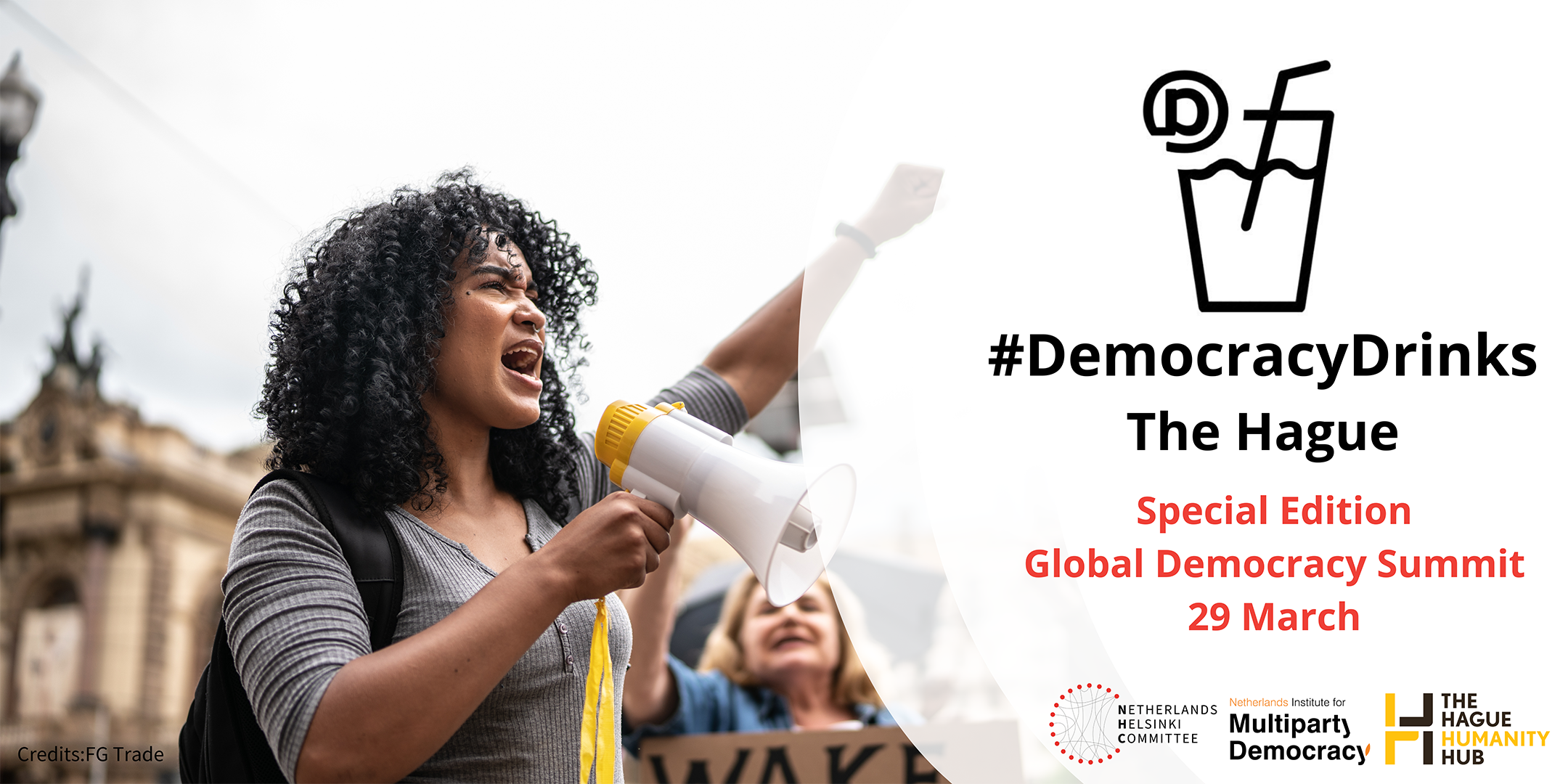 #DemocracyDrinks special edition: Global Summit for Democracy
21-03-2023
Join us at The Hague Humanity Hub at 5-7.30pm on 29 March for our monthly #DemocracyDrinks.
This edition of #DemocracyDrinks coincides with the opening of the second global Summit for Democracy. Therefore our event will be a special edition, in collaboration with the U.S. Embassy in The Hague and the Netherlands Ministry of Foreign Affairs.
While the world leaders come together to plan and strategize, we will livestream part of the Summit. Our high-level panel will then reflect on the talks so far, shining a spotlight on the urgent importance of inclusive democracy and the values it represents.
Our guest speakers will include H.E. Shefali Razdan Duggal, U.S. Ambassador to the Netherlands; H.E. Arnoldo Brenes Castro, Ambassador of Costa Rica to the Netherlands; and H.E. André Haspels, Ambassador of the Netherlands to the United States.
What are #DemocracyDrinks?
Our #DemocracyDrinks bring together democracy advocates, thinkers and enthusiasts to connect in an informal setting.
As a valuable opportunity for networking, the event will be all about making new contacts and catching up with people you know. You can test new ideas; plan common initiatives; and find moral support and inspiration.
#DemocracyDrinks were launched by Defend Democracy in Brussels in 2018. And, since then, the idea has taken off. #DemocracyDrinks have taken place around the world, including in Washington DC, Berlin, Kathmandu and, since last year, The Hague.
Our previous #DemocracyDrinks in The Hague have attracted a lively mixture of people from NGOs, international institutions, think tanks and national government, among others.
The event series in The Hague is a collaboration between the NIMD, the Netherlands Helsinki Committee (NHC) and The Hague Humanity Hub.
Registration
Unfortunately, this special edition to celebrate democracy is sold out. You can join our waiting list here.